Everyone's guilty of Monday morning quarterbacking, the act of criticizing decisions made after the fact. It's such a common practice that it's a figure of speech used beyond the gridiron for anyone sounding off about "couldas," "wouldas" and "shouldas." But football fans will forever rid themselves of that habit when it comes to plays made on the field if Ray Austin has anything to do with it.
Co-founded in 2013 by the former New York Jets and Chicago Bears star, the Fan-Controlled Football League allows fans to draft players, select coaches and call plays during games. All it takes is a mobile app to vote online have in their own homes — or wherever they might enjoy games — the kind of power that has always required a seat at a boardroom table.
"Instead of sitting on the couch screaming at the TV, how about being involved?" Austin explains of the league, whose inaugural six-week season games will stream exclusively on Twitch starting in February 2021. "How about coming to the meetings of your teams every week to figure out what's going on, how you can help? How about recruiting a player off of YouTube and huddling and uploading it for the team so we can see new players. That's what we're trying to create. We're trying to create an experience."
Now retired from the NFL, Austin has turned his passion for football into a business venture like none other among the growing crop of gaming companies. "There are so many things that make us stand out," he says proudly. "First of all, we are not or even trying to be the NFL, and I think that's the thing we're always trying to throw at people, saying, 'Hey, look, this is innovative, this is the rebellion from the NFL.' We want to give our fans the opportunity to do what they've always wanted to do."
Presenting that gift to fans has been several years in the making. The successes the FCFL has seen have made the sleepless nights of planning and strategizing well worthwhile.
"When we first started this in 2013, we bought a team, an indoor football league," Austin recalls. "We allowed the fans to run it, so they picked us to move to Salt Lake City, Utah. They picked the name, the logo, the jerseys, the coaches, the players, and they called the plays in real time. We were going up against real teams, real coaches. There were 12 teams in the league. There were 12 games, and our fans were 5-7, and we had the third top offense in that league run by the fans. We had fans from all over the country."
Aside from empowering fans in a revolutionary way, Austin says the FCFL has acquired the kind of worldwide presence to which even the almighty NFL still aspires. "We had over a hundred different countries participating in a football team in Salt Lake City," he points out. "If you think about the magnitude of that, the NFL has been trying to get global for the last 20 years. We were able to reach people globally in one year based off of the way we're doing it."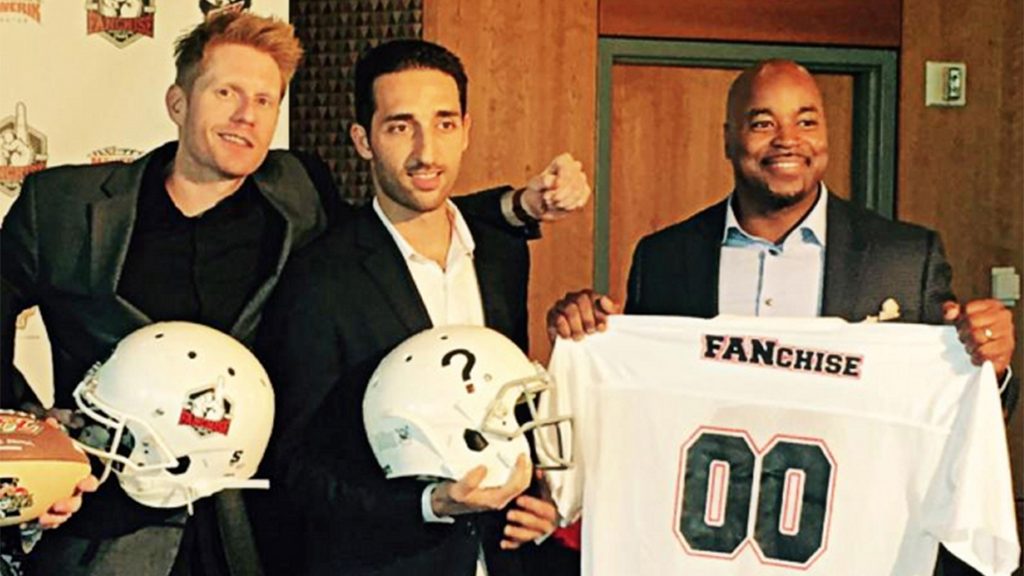 One of the FCFL's methods in its quest for world domination, or at least a limitless fanbase, has been to get famous faces on board. Namely, San Francisco 49ers cornerback Richard Sherman, former NFL star Marshawn "Beast Mode" Lynch and former world heavyweight boxing champion Mike Tyson all bring seasoned athletic credibility to their posts as team owners. Another celebrity with an ownership stake is an idol in the concert arena rather than the sports arena: Quavo of the chart-topping rap group Migos, himself a former high school football phenom. Austin says all of these key players bring something vital to the FCFL brand.
"You talk about Quavo, we're talking about the hip-hop culture right now, like, 'What is that like?'" Austin explains. "And just imagine being on the team of Quavo and what he's going to do with that team and what the music's going to sound like, what is his style going to be? And then you have Mike Tyson, we've got Mike Tyson as one of our team owners. And just think about how goofy, silly and fun that's going to be. Then you've got Marshawn Lynch, and just think about what 'beast mode' stands for in our culture. Then you have somebody who's a current NFL player, Richard Sherman, so think about the way his brand has been. He's such a smart player and an innovative type of player."
Conquering sports and entertainment is nothing new for Austin. Since his NFL days, he has appeared in about a hundred TV commercials and a slew of print ads. He held the distinction of being a rare male model signed to the prestigious Wilhelmina Models in New York City and later inked a contract with Chicago's Stewart Talent, a recent print campaign for him being for mattress and bedding company Tuft & Needle. Having studied acting, he has also racked up several credits over the past 15 years, including guest spots on Chicago P.D., Chicago Fire and Empire, playing Cookie's late father in flashbacks. For Austin, taking such a scenic path to co-founding a football league was a natural progression.
"I've always been a creative soul," he says. "I took the football route because that was my route. That was the hand I was dealt, so I played it as best I could. But I think that I was always a creative person, and I've always had this chip on my shoulder where I never wanted to be just known as an athlete."
As a model, a brand he is especially excited to represent is Ariat, maker of footwear and clothing catering to the equestrian athletes. "I have been with Ariat for over a year," the Greensboro, N.C. native says of the company named after celebrated 1970s racehorse Secretariat. "I've been exclusively sign with them since I've been there. A country boy at heart, growing up in North Carolina and spending my high school football time in Oklahoma, I knew about the black cowboy tradition for a long time. So I take honor in being one of few African Americans to be able to represent the brand. African Americans are deep in the cowboy history, some of the first American cowboys. I've spent time with the Ariat team, and I truly enjoy the friendly culture of the company."
Austin hopes that he and his business partners can inspire others to take their passions and boss up, so to speak, rather than resigning themselves to working for others. "You have to be a jack of all trades nowadays," he says, "and if you have a skill and a talent, why not use it and make money. If you have a skill and talent to play ball, why not make money at doing it, and then let that be the key to open the other doors that you can get."
The father of a daughter, 21, and son, 19. Austin lives with his current wife, Ashley, between Chicago and Arizona. Sports is a constant in his household, as his spouse of four years is a marketing manager for the Phoenix Suns. The couple, who stay fit through 10-mile runs together when in Arizona, hope to expand their family while juggling their demanding schedules.
That might sound daunting, but backing away from a challenge has never been Austin's style, personally or professionally. In the latter area of his life, a mutual loyalty toward football enthusiasts keeps him focused. "We've been in this whole thing because of the fans," he says of his FCFL team. "That's always been our eyeball: How will the fans see this? What would a fan like? How cool would this be if we were fans? And if that's always going to be our reach, then I think we'll be good. It's just the beginning."