In the year of COVID, nothing about sports is "normal." The NFL draft wasn't normal, mini-camps didn't happen and pre-season games were erased from the calendar. Players still run out of the tunnel- full pomp and circumstance with smoke and fireworks, but are greeted by half empty, sometimes completely empty stadiums filled with fake cheers and pumped in music. The new sports normal requires players to be swab tested for COVID on a regular basis, masks are always mandatory, meeting rooms are broken down even further than before, and after game celebrations are all but a memory. But, for rookies like Cam Gill, he's grateful for every single moment.
I had the chance to sit down with Cam via Zoom for a casual Sunday chat in December while the Tampa Bay Buccaneers were on a bye. Normally on Sunday, Gill would be in full uniform as part of the special teams unit, but today he sat comfortably in a 'Salute to Service' sweatshirt in his new apartment in Tampa. It's a far cry from the cold, small dorms of Wagner College.
As an UDFA, signed to the Tampa Bay Buccaneers, Gill knew it was part of his dream to make the fifty-three man roster. But with no mini-camp and no pre-season games, he also knew the challenge presented before him was going to be a tough one.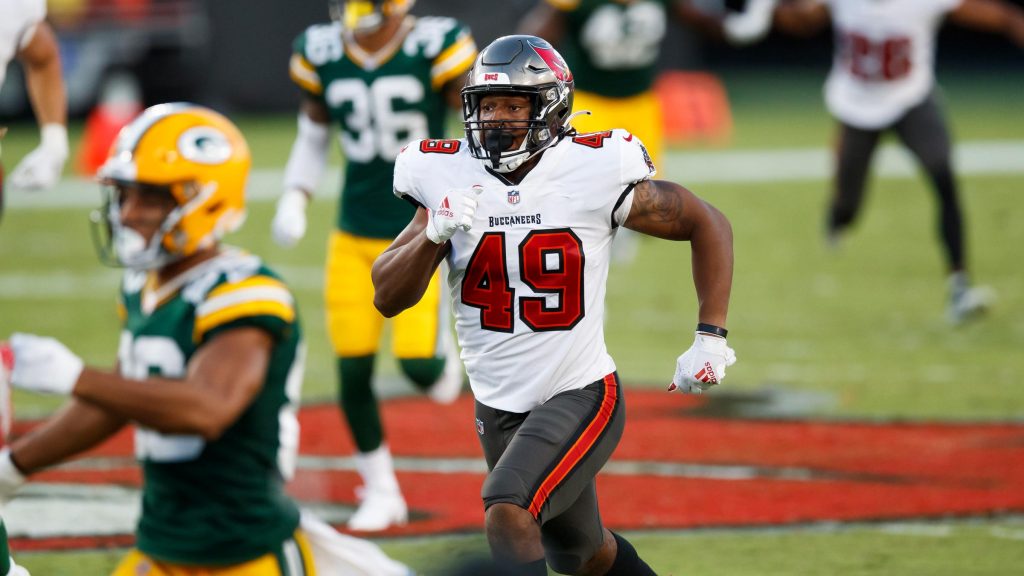 "Rookie camp was cancelled. Usually rookies only come in for the first week. We get a little head start on the play book and some drills, but this year it was everyone all at once. I was trying not to put too much pressure on myself, but I knew I had to hit the ground running. Pre-season games allow the rookies to make an impression; it's our chance to show our stuff. But now, I only had training camp. I only had practice. I was this un-drafted kid from Wagner, But I had to just be me and give it all I got like I have in the past. I knew it would all work itself out."
Anyone who knows Gill would tell you that there would be no doubt in their mind that he would be part of the fifty-three, and Cam himself had that feeling as well.  That is until one day in practice where he felt it all slipping away.  "I remember that play exactly.  In college, the quarterback wears red.  You know not to touch the quarterback.  We're Tampa Bay, we all wear red and the quarterback wears orange.  I came around the edge and beat the tackle, and he nudged me and I fell into him."  The him he is referring to is Buccaneers quarterback, Tom Brady.  "We had meetings afterward and I thought for sure I was getting cut.  But he came to me.  I was in the locker room and he just came up to me.  I admit, I was a little star-struck.  He just said 'Keep rushing how your rushing.  We're going up against the bad guys soon- it won't be for show then when we're out there.'  I knew at that moment I had to keep going hard, I just had to stay away from the GOAT.  I went to Bruce [Arians] too.  He wasn't OK with it, but he understood that stuff happens.  I wasn't about to let it happen again though.  I didn't sleep that night."   
By the time the report of what had happened at practice made it to social media, Gill had became somewhat infamous on Twitter. "I was getting a lot of backlash on Twitter. I try not to make social media more than what it is. You're going to have those moments where you do things or you miss a play. Even my friends gave me hell, but I know it's all love. They always keep it real. I appreciate that. I don't allow it to get to me. It's not about that."
When the official fifty-three came out, there was no surprise to anyone that Gill's name was right there.
As the reining 'sack-king' of the Northeast Conference (NEC), his path to the NFL may have seemed inevitable, but Gill will be the first to tell you it hasn't always been easy, but it was always the goal.  When his dreams of playing at the University of South Carolina didn't pan out, he wasn't sure he would get a chance to play college football at all.  Enter Wagner College; the small FCS school in Staten Island, NY.  Gill continues to show immense gratitude for his former coach, Jason Houghtaling (Coach Hoss), saying how if it wasn't for him, he wouldn't have had the chance to fulfill his dream.  "He taught me how to be the best version of me.  Taught me to fight the mental battles.  He believed in me since the day he met me when I was in high school.  He envisioned all of this when he was sitting in my living room talking to my family in Georgia.  He had no doubts I would be playing on Sunday one day."  Gill went on to not only secure sack records for Wagner College and the NEC, but was named Defensive Player of the Year twice in 2018 and 2019, as well as captain during his senior year.
"Who was the first person you called when you found out you made the roster?"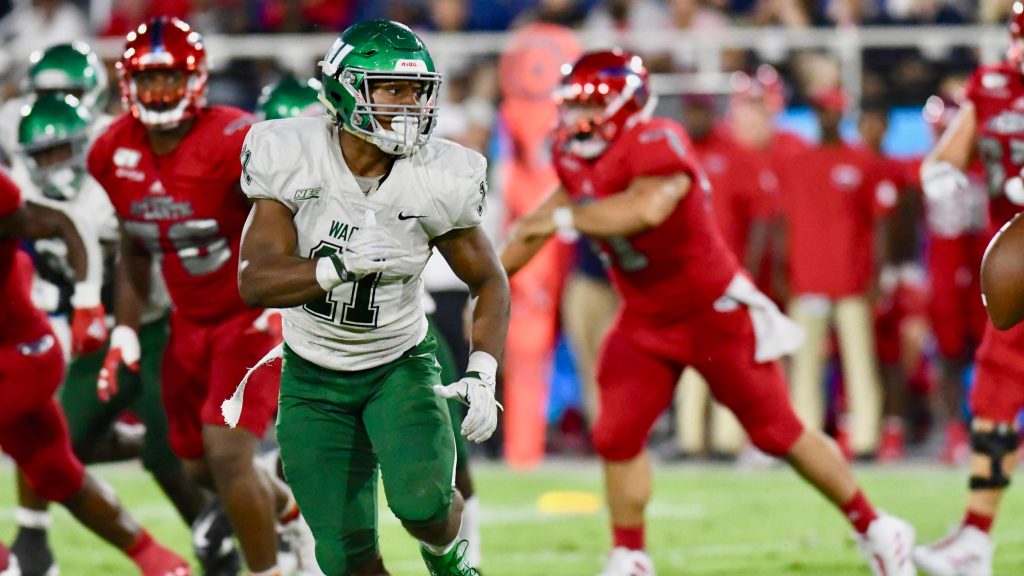 "You know I called my mom." Gill stops for a minute to collect himself. There is something special about the relationship between Gill and his mom. Like all mothers with sons, they have a bond, but Gill explains that none of what he is experiencing now would be possible without the sacrifices she made so he could succeed. "My mom is an exceptional lady. There is no one like her." Ms. Williams wasn't always the quintessential football mom. She didn't immediately love the idea of Cam playing football, but with some convincing, and seeing how much he loved the game, she eventually gave her blessing. She was all-in. She drove Cam to countless football games and camps all throughout the south: Mississippi, North Carolina, South Carolina, Tennessee and never questioned it. When Cam needed to put on weight in high school, she made sure his meal plan was followed to the letter. She was his biggest supporter in his dream of playing college football and beyond, and Cam credits most of his success, drive and determination to her. "Having her the most proud of me means everything. Knowing what she has been through, just to be here; I'm always going to take care of her. I remember when I made the team. She had been praying the whole time. She was more nervous than I was. But it felt good to be able to call her and give her the news. I called her and said 'How does it feel to have your baby boy playing in the NFL?' There were a lot of emotions on that call. She's my biggest fan. Being able to see her son's dreams come true makes her happy."
As most athletes will tell you, it's not just his mom that Gill feels an overt sense of gratitude, love and appreciation. He credits his Wagner College coaches for believing in him and says that he still talks to them quite often. Coach [Darrell] Wilson is that coach that reminds you every day to play from the heart. Coach Hoss tells me every time we talk just how proud he is of me. But the one coach who makes sure Gill stays humble is his defensive line coach, Terrance Knighton. Knighton, an NFL veteran himself reminds Cam that while he is proud of him, he has to 'stay the course.' "He taught me how to be a pro; how to take care of your body and your mind. He stresses the importance of being a man both on and off the field. Four of Coach Knighton's defensive line players from the 2019-2020 season have all been picked up by professional teams, both in the US and in Canada. Gill continues saying that he speaks to his former teammates and friends every day. "We're all at this new level. We talk about the day to day, meetings, practices, and games. It's a good feeling to be able to have those conversations with your brothers. We worked for this."
We chat about the postponement of the fall football season by the NEC until potentially January and ask if he has reached out to any of the seniors on the team this year and what words of wisdom he has offered. I tell them that the clock starts and it doesn't stop for anyone. The amount of work you put in will be what you get out. You have to focus on what you can control. I'm glad they will be able to finish out their senior year. They just need to do their part and always stay ready.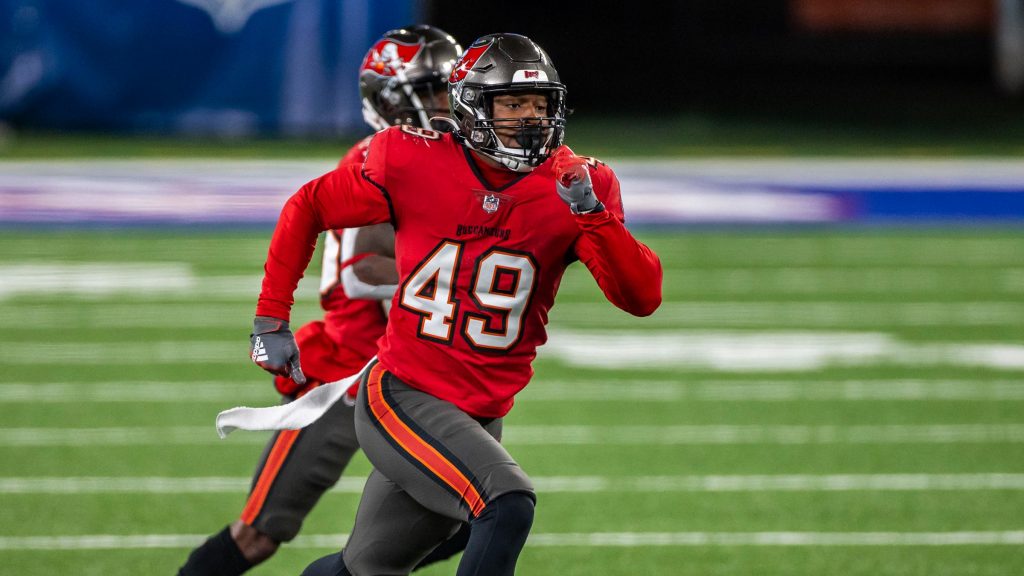 Listening to how passionately he talks about his former teammates, his former coaches, his family, and the opportunities he has been given all in the name of football, makes you understand why coaches like Bruce Arians have been described as "taking a real liking to the rookie."
I take a second to ask him about his new coach. "What can you tell us about Coach Arians?"
"As a coach he's fiery, but I appreciate that. He's old school, hard nose. He wants the game to be played the right way. He's big on the mental side of the game as well as the physical. Every team meeting he'll pull up our mental errors. We are all held accountable for those. It's the biggest thing he preaches. We can be the most physical team, but only we ourselves can help our mental errors." He goes on to explain that his college coaches weren't much different than his NFL coaches. "I was used to it. Wagner coaches were not soft on us at all. College and NFL coaching is pretty much the same. We get treated the same way. I was grateful for that."
"Do you still consider yourself an underdog?"
"Of course I do. I love it. It's a chip I wear proudly. It isn't going anywhere. I keep it all in the back of my mind. I'm happy and blessed to be here, but we gotta be real. Every team passed on me. All thirty-two teams. I will always consider myself an underdog."
"Have you had that pinch me moment yet?"
"I have it all the time. Every time I put on that jersey with my name on it. Every day, right down to my shoulder pads. I keep every game-day jersey. The feeling is unreal. They can keep taking the money [for the jersey] out of my paycheck. I just love going to work every day." I offer to take one of those jerseys off his hands if he will sign it for me. "No doubt. I got you." He says with a full grin. He continues, "One of my most surreal moments so far has been when people ask me 'You get to play with those guys?' I have to stop them and say, 'I am one of those guys.' It's a crazy feeling for sure. But I am grateful and blessed."
"How do you think COVID has changed your rookie season?"
"When we arrived for camp, we had to quarantine in our hotel rooms. That was tough for me. I wanted to continue to train, but knew that I had to keep myself and everyone on my team safe. Besides the beginning of camp, I don't have anything to really compare it to. I'm definitely looking forward to letting the fans back in. But whether it's a sold out stadium or empty, I'm going to go out there and play my game. I'll definitely be able to look back after next year and see how it was different.
"What is something you learned about yourself this year?"
"You always gotta hit me with the tough ones." We both laugh.
"I learned so many things. I learned not to put boundaries on myself. Just because I came from a small school, it means nothing. I still proudly wear my Wagner gear. I wear my Wagner green into the facilities every day. I get a little slack for it. They may not have known about Wagner before, but they're knowing now. You have to invest in yourself. Believe in yourself. You have to be right with yourself before anyone else will. Ask for help when you need it. And don't think just because someone doesn't say something, they don't notice. They do! They notice all of it. The good and the bad. Most of all- just enjoy it and do it with your whole heart. I don't want anyone thinking they can't do something they truly love. The sky's the limit."
He explains that life hasn't changed too much. "My dreams haven't changed. I'm still the same Cam. I'm just living my dream. I've been working for these moments since I was seven years old. Every day I remind myself that it is about loving what you do, learning something new every day, proving to yourself and everyone else that you deserve to be here and always remembering your why
As we end our call, I thank him for his time, remind him that we are all proud of him, and we can't wait to come cheer him on. Post-covid of course.