86 counterfeit championship rings seized in Chicago
On September 13, a shipment of 86 counterfeit championship rings was seized by U.S. Customs and Border Protection (CBP) in Chicago, Illinois. The counterfeits included 24 Chicago Bulls rings, 34 New York Yankees rings, 22 St. Louis Cardinals rings, and 6 Philadelphia Eagles rings. If genuine, the total value would have been over $2 million.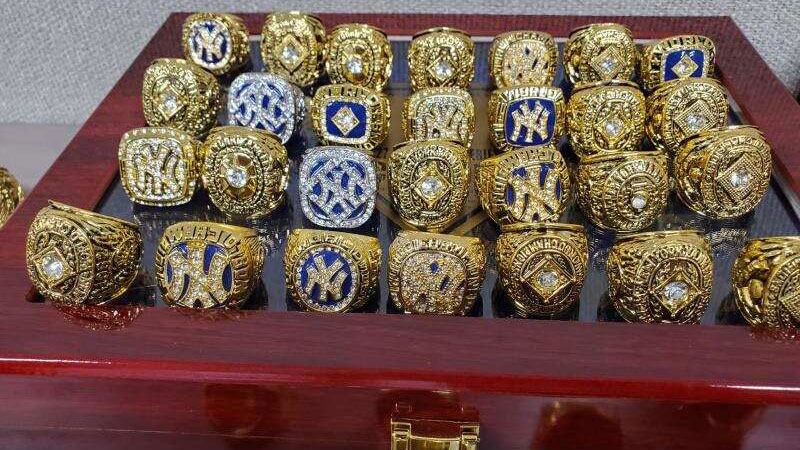 This shipment originated in China and was intended for a residence in Missouri. The rings were determined to be counterfeit based on a lack of security features and their substandard quality.
According to LaFonda Sutton-Burke, Director of Field Operations in Chicago, "Shipments like these prey on the many sports fans across the nation who may be scammed into paying high prices for fake memorabilia."
This case of counterfeit sports memorabilia was far from an isolated occurrence.
661 Counterfeit NFL and NBA Rings Seized in Indianapolis, Indiana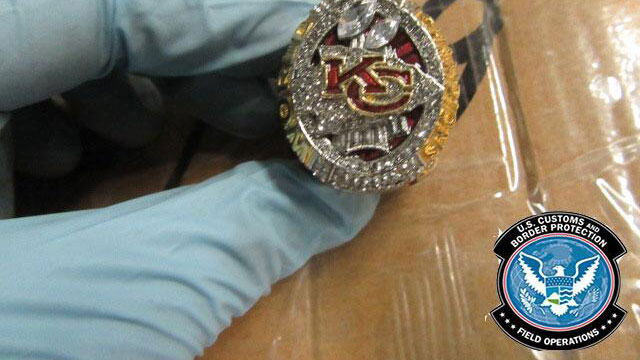 In June, the CBP seized 3 shipments of fake NFL and NBA rings in Indianapolis, Indiana. The 661 counterfeits included 285 Los Angeles Lakers championship rings, 160 Kansas City Chiefs Superbowl rings, 154 Green Bay Packers Superbowl rings, and 62 Miami Dolphins Superbowl rings. The shipments originated from China and were destined for various U.S. locations.
Atlanta Resident Sentenced to 40 Months in Prison for Selling Counterfeit Memorabilia
According to a release from the Northern District of Alabama U.S. Attorney's Office, an Atlanta, Georgia resident was sentenced to 40 months in prison after pleading guilty to federal charges in Alabama. From 2010 through 2019, he forged autographs on retail items including sports equipment, posters, photographs, and books, and sold them on three websites he'd created.
In 2018, he reached agreements with two Alabama television stations to run advertisements, claiming to be an account director of an advertising agency, but never paid for their services ($80,000 and $55,000).
Operation Bullpen
Counterfeiters have long taken advantage of sports fans' desire to own a piece of sports history. According to a 2005 article in the Federal Bureau of Investigation archives, it's likely that more than half of the most sought autographed memorabilia at the time was fraudulent.
In the late 90s, the FBI in San Diego, California, in coordination with the U.S. Attorney's Office and the Internal Revenue Service, launched Phase I of Operation Bullpen, an undercover operation intended to penetrate the nationwide counterfeit memorabilia network. They established the Nihon Trading Company, and an agent went undercover in Asia as a distributor of American memorabilia. The first phase of Operation Bullpen ended in April 2000 with 26 convictions.
The Rise of the Major League Baseball Authentication Program
After the FBI's findings, Major League Baseball (MLB) began the Major League Baseball Authentication Program, which claims to be "the most comprehensive league-wide memorabilia authentication initiative in professional sports."
Off-duty law enforcement officers act as witnesses for every MLB game. Only items witnessed by these authenticators are eligible for the program and receive tamper-proof hologram stickers. Each hologram is designed to show signs of tampering when removed, and each comes with a unique alphanumeric combination that can be referenced on the MLB authentication page.
Since its beginnings in 2001, the Major League Baseball Authentication Program has authenticated over 6 million items.
---
Every sports fan wants to own a piece of sports history, but there's an underground industry of counterfeit memorabilia dedicated to taking advantage of sports fans' enthusiasm. Before spending your cash, make sure you do your homework, and stay tuned to FXQ for our upcoming article about protecting yourself from counterfeiters.