With basketball now in play for both college and the pros (as much as the pandemic will allow) and the race for the Oscars soon to be in full court press as well, here's a look at Tinseltown's top titles when it comes to hoops cinema.
First, however, it must be stated that outside of a pair of silent films ("High School Hero" and "The Fair Co-Ed") and a couple of Harlem Globetrotters pictures in the 1950s, unlike other sports, especially baseball and boxing, it really wasn't until the 1970s that basketball movies were produced in any number.
These include one directed in 1971 by superfan Jack Nicholson called "Drive, He Said". 1973's "Maurie" starred NFL player-turned-actor Bernie Casey as Maurice Stokes, a three-time NBA All-Star whose career — and later his life — was cut short by a debilitating brain injury and paralysis. 1975's "Cornbread, Earl and Me" featured NBA star Jamaal Wilkes and Kotter's Gabe Kaplan portrayed an aspiring coach in "Fast Break".
So, what makes a good Roundball feature film?
Whether it is a comedy, drama or a biopic that might combine both, certain universal film review criteria need to be considered which include originality of the story and its execution; production values; plausibility; predictability; performances and re-watchability among others.
Additionally, as basketball has exploded in popularity and is now at the core of our sports-crazed 24/7 society, the rise of hoop films faces an increased challenge for cinematic success: authenticity. For the more sophisticated fan today demands verisimilitude.
In covering the court, perhaps the best genre-specific observation about what separates a fine film from an average movie comes from a producer and second unit director who has made a career out of sports movies.
"If you don't believe the alley-oop pass, you won't fall for the tears in the locker room," says Mark Robert Ellis whose motion picture credits include: "Coach Carter", "Miracle", "Any Given Sunday", "Semi-Pro" and "Invincible" among many others.
As someone who's honed a keen critical eye by screening hundreds of films, Charlie Tabesh, the Senior Vice President for Programming and Content Strategy for Turner Classic Movies (TCM), concurs on the importance of believable sports action.
"I like the same things in sports movies that I do in any movie: good writing, a compelling story, and themes that transcend the setting, even if that happens to be in the world of sports (which I love)," said the veteran film executive. "However, being a sports fan, I do appreciate some degree of realism and if I see something that doesn't quite make sense to me, it definitely has an impact on my enjoyment of the film."
Ultimately, however, even if you have the best filmmakers who get the action sequences right, it's worth repeating that it still comes down to what makes a movie in any genre successful: story. One peopled with compelling characters.
Now before we dim the arena and start the light show in presenting The Starting Five, there are a few others that should be acknowledged:
Hoop Dreams (1994)
Three Chicago filmmakers, commissioned by PBS to film the experiences of young black boys who've been recruited by wealthy, white private schools to play basketball soon realize what they took on would become a lot more than a half-hour public television program.
Steve James, Peter Gilbert, and Frederick Marx would eventually produce 250 hours of footage and combined with editing time would take seven years to complete. The result, "Hoop Dreams" is nearly three hours in length presenting an intimate chronicle recording the public and private moments of two 14-year-old black teenagers from the poverty-stricken neighborhoods of Chicago as they pursued basketball success as a ticket to a better life.
Beginning in the 8th grade and on into their first year in college, the movie focuses on Arthur Agee and William Gates' pursuit of hoop stardom and their against-all-odds visions of playing in the NBA as a way to highlight issues of class, race and education in America. Filled with many obstacles and few victories their road is covered in gritty, engrossing detail as we experience the real sense of time passing watching the subjects grow up before our eyes. The young men doggedly hang on to their dreams of NBA glory despite the intense pressures of academic and athletic competition (and injury), family problems, and economics.
As a documentary it doesn't qualify here, but it clearly is an outstanding film presentation (earning an Academy Award nomination for Best Editing), perhaps the best basketball documentary ever.
"It says so much about race and poverty in our culture and our priorities as a society. You genuinely root for the kids in the film as you get to know them and their families. It's a really well-crafted film that combines social commentary and personal stories in a way that keeps you engaged throughout the entire 3 hours," said Tabesh.
Love & Basketball (2000)
Omar Epps and Sanaa Lathan star in the hardcourt romance where on and off the asphalt deep feelings come into play and the one-on-one matchup is less concerned about sinking the winning shot, but rather what lies ahead when the clock strikes zero.
The pair offer some real chemistry and authenticity in the inevitable ups and downs as they strive for success sharing more than a love of the game.
In this rare character study where the female athlete measures up to the male athlete co-star, and then some, writer-director Gina Prince-Bythewood uses the metaphors of sport and gives us something that is more about the choices that we make than purely love and basketball.
"I really like a good romance, the acting is terrific and the characters are interesting. I appreciated that it took on some of the gender issues and struggles specific to female athletes. And the basketball aspects of the story felt realistic," said Tabesh.
Some of those women athlete struggles are best evidenced by a terrific scene in pre-WNBA days showing Lathan's character's disenchantment, loneliness, and isolation as she doesn't understand one word of her Spanish coach's pep talk before going on to a hollow championship victory.
The Pistol: Birth of Legend (1991)
A small-scale gem about the early years of one of college basketball's all-time greats, Pete Maravich, The Pistol exams the role
his father, coach Press Maravich, had on the youngster's development as a player and person within a landscape of segregation in the late 50s/early 60s.
Helping him overcome awkwardness and instilling distinct training programs to build up his son's confidence and support Pete's dream of hoop stardom, the Clemson Tigers college coach instilled values and a work ethic that would help Pistol Pete become one of the greatest offensive players in the history of the sport.
The young man with the floppy socks averaged 43.8, 44.2, and 44.5 points per game over his three seasons at LSU. And it should he noted he achieved all that before the adoption of the 3-point line and the shot clock.
Blue Chips (1994)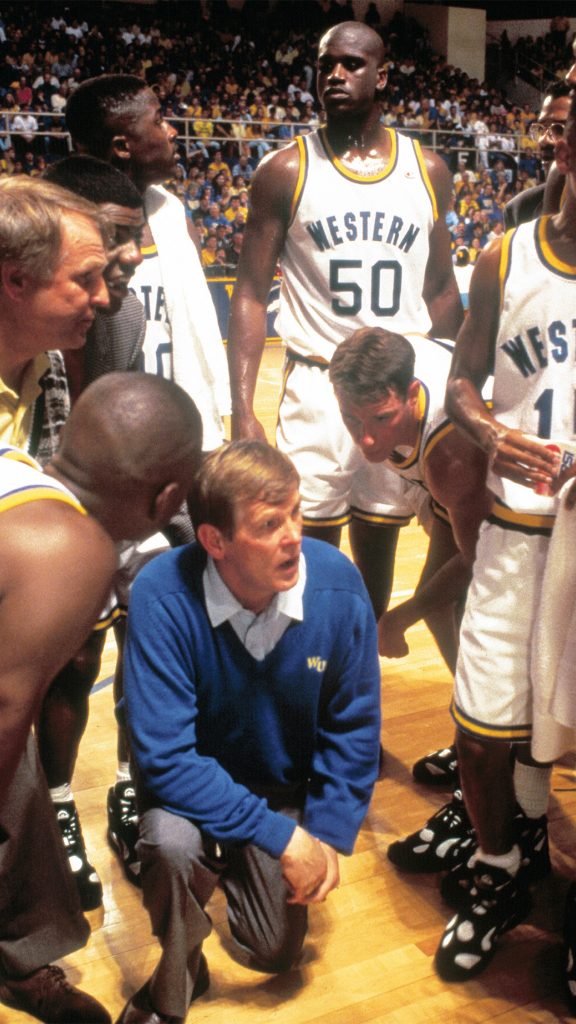 Nick Nolte excels as Western University basketball coach Pete Bell, demonstrative but well-respected, he has enjoyed a very successful career but with several concurrent mediocre seasons he's come under increasing pressure to reproduce his past glories which include conference titles and national championships. To this point Coach Bell's program has been very clean, his players graduate and he hasn't had to paid off players to join his school. But now… the old-school teacher of the game makes a fateful decision becoming what he despises most getting involved with the illegal "booster activities" that go on behind-the-scenes (the lead booster carrying out the "Friend of the Program" is well-played by J.T. Walsh).
The picture remains particularly visionary regarding the seamy underbelly of collegiate boosters and the constant temptations players and coaches have come their way.
The cast includes former NBA stars Penny Hardaway and Shaquille O'Neal as part of coach Bell's players. Along with Bobby Knight and Rick Pitino coaching the game action, authenticity was enhanced with Jerry Tarkanian, Lou Campanelli, and Jim Boeheim appearing as recruiting coaches. And Nolte's "I quit" speech is an all-star moment.
The film's writer, Ron Shelton, comments on the topic's relevance today.
""Blue Chips" was an effort to get behind the curtain of the dirty part of big-time college sports. It's still a subject worth exploring dramatically."
Rebound: The Legend of Earl "The Goat" Manigault (1996)
As the film tips off, adding some heft to the phenomenon, when asked in an interview who was the greatest player he faced in his long and distinguished career, superstar Kareem Abdul-Jabbar states unequivocally it has to be Earl Manigault, aka "The Goat".
This made-for-tv movie (airing on HBO) features Don Cheadle as the Harlem playground legend.
It is a probing and sad story of an elite guard and prolific aerial performer who drops the ball with a golden opportunity for a chance at getting an education at a top college by his spiraling out of control into drug addiction.
Incorporating a lot of factual based occurrences, the film shows The Goat, now a reformed junkie, returning from prison to clean up his act and re-emerging as a community leader devoting the rest of his life to the young kids of Harlem.
And now…. (in no particular order) The Starting Five: Hollywood's Best Basketball Movies.
He Got Game (1998)
This Spike Lee joint teams the writer/director up again with Denzel Washington. The well-known Knicks fan, Lee was also a producer of the aforementioned, ""Love and Basketball".
The story this versatile filmmaker presents here centers around Jake Shuttlesworth (Denzel Washington), a former playground basketball legend who is serving time for the accidental slaying of his wife Martha (Lonette McKee). Meanwhile, their son Jesus (Ray Allen) has been garnering attention that he's developed into one of the best high school players in the country playing for Lincoln High on Coney Island.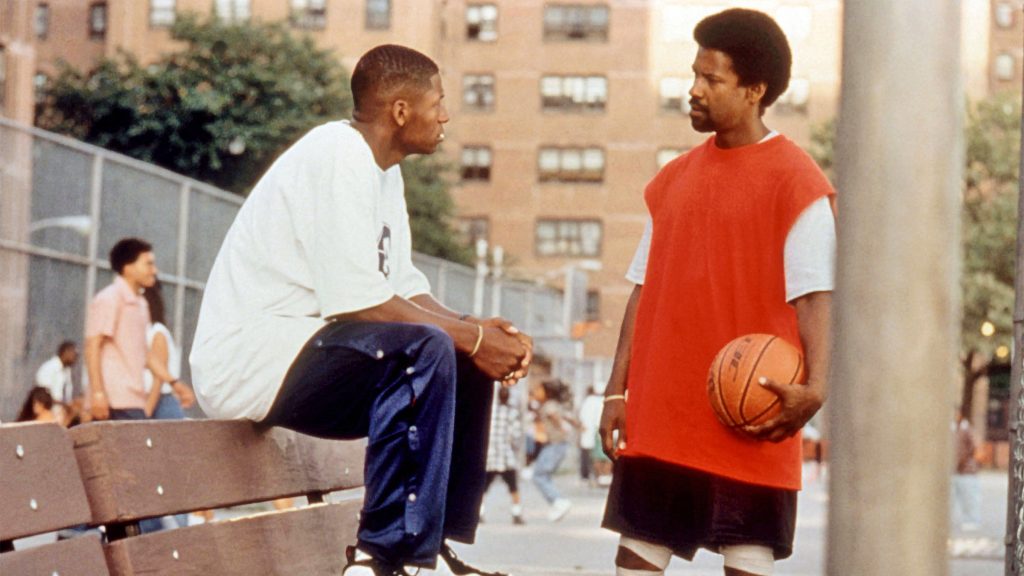 "He Got Game" is an ambitious movie that tells not one story but two. There is the very strained father/son relationship of Jake and Jesus who bitterly holds his father responsible for his mother's death and the other is the corruption, betrayal, and use of young men as commodities in the high stakes world of college athletics.
Plenty of sparks fly between Jake and Jesus, but there are some light moments between the two stories.
One of the more memorable scenes occurs at the Tech U campus, where star athlete Chick Deagan (Rick Fox) gives Jesus a tour he won't soon forget which includes a hysterical pitch by basketball coach Billy Sunday (John Turturro) who prays "Dear Lord deliver Jesus to us".
The verisimilitude is assured with a director who has a passion for the game is at the helm. Lee also brought in NBA Hall of Fame player Earl Monroe as a technical advisor.
Essentially "He Got Game" scores in its focus beyond the courts on the greed, pressures, and use of young men as commodities in the flesh-peddling world of big-time sports (a nice bookend with "Blue Chips" in that regard).
Rookie actor and NBA all-star, Ray Allen, though not overly stretched in this role, is nevertheless a pleasant surprise. Embodying the dignity and poise that is demanded in order to go through the pressurized circumstances in making "the biggest decision of his life", Allen pulls it off.
In the end however, at its core, "He Got Game" really benefits by the performance of Denzel Washington in its main story- that of the father/son relationship. The dynamic between Jake and Jesus is convincing, earnest, and poignant. Washington really captures the flawed man who made a tragic mistake in his life. One that essentially ruined his existence including his relationship with his son. At the same time he's committed to making sure his son does the right thing. The actor excels in showing us the internal struggle of Jake as he tries to connect with his estranged son.
Rob Miller, CEO of Reel Sports, has been a producer and second unit director on dozens of sports movies and lauds the performance here of the lead thespian.
"Denzel Washington is a great actor and of course the basketball looks good because they turned a great player into an actor."
You know it's an iconic movie when you can currently buy a Jesus Shuttlesworth jersey online.
Glory Road (2006)
Its 1966, a particularly racially-charged time in America, when Texas Western coach Don Haskins leads the first all-black starting line-up for a college basketball team to the NCAA national championship.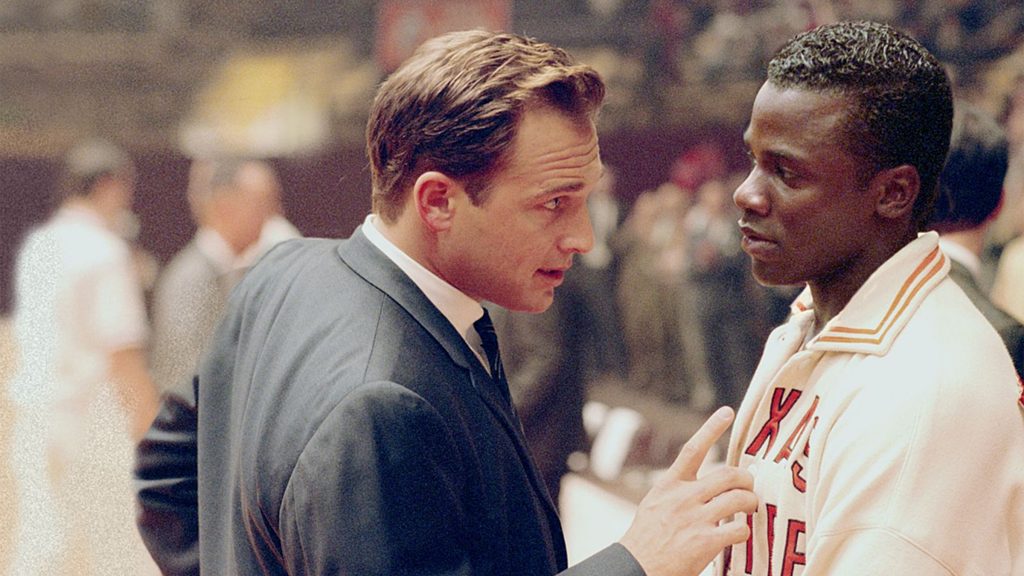 Josh Lucas is compelling as coach Haskins, ably alternating between being a player's best friend or his worst nightmare, but what was a clever filmmaking decision by producer Jerry Bruckheimer and director James Gartner is to present the story not through individual characters as much as through the issues of the times. And even though the usual liberties were taken with the facts in order to enhance the drama, (such as the motion picture suggesting that no one in El Paso had even heard of black people until coach Haskins started recruiting them, when in fact three black players were already on the team when he arrived), that's all part of the underdog sports movie world's proven formula. And die-hard fans of this style are willing to put up with artistic license if it delivers.
And it did. Evidenced by Glory Road winning an ESPY as Best Sports Movie and Derek Luke the winner of the Hollywood Films Award as Best Breakthrough Actor.
Tipping off with archival footage of changing times, we soon see what the incoming coach faces, namely without recruiting support, financial and otherwise, Haskins and his tiny, overworked staff looked to under explored corners of the country to pick up the sort of talent that could compete with more established programs and whom had little chance to attend college anyway. Talented black players relegated to schoolyard courts or bench warming in favor of white ballers.
Overcoming a season-long fight internally and externally on mostly racially-charged incidents, the seven black and five white teammates, led by explosive point guard Bobby Lee Jones (Derek Luke), Haskins' team eventually becomes the year's Cinderella story. Rolling to the championship with a very impressive record, the Miners now find themselves the underdog to legendary coach Adolph "The Baron" Rupp (Jon Voight) and his heavily favored Kentucky Wildcats.
Though as we would state in an interview years later, the real coach Haskins said, "I started my five best players. That they were all black and that it was the first time five black players had started in an NCAA championship game meant nothing to me."
Nevertheless, the racial implications of that final game were undeniable and thus the ideal climactic conclusion of the cinematic story. Rupp's all-white lineup reflected a reticence to integrate that has tarnished his legacy, while Haskins' team reflected a shift that would progress through the culture in general. UTEP's players go on to win in more ways than one.
Conventional but entertaining, the film's creators makes some interesting decisions. One is the play-by-play announcers somehow simultaneously seem to be the public-address announcers as well, so that loudspeakers in the gyms carry their commentary and opinions. That works for the theater audience, but how would it work with players and spectators in real life?
A really good move was to enhance the end credit sequence, where the real-life Haskins, several of his players from the 1966 team and Miami Heat executive Pat Riley (who was a star for Kentucky and a featured player in that historic game) talk about the importance of the game and its impact on and off the court.
Is this fictionalized account of what many consider as the most significant NCAA basketball game ever played, formulaic? Yes, but it still scores.
Derek Luke, the film's star as playmaking guard Bobby Joe Hill, explains why he feels the film has held up so well.
"I'm most proud of "Glory Road," being a part of a timeless piece of work that reflects the courage to stand in the face of adversity that transcends not only that generation, but applicable to now and future generations. Being a part of a timeless piece of a revolutionary work that has helped pave the way for those who exist now."
It's a story that's been told countless times by Hollywood, but Glory Road feels more relevant and important because this team and, in particular, the 1966 NCAA Championship changed basketball forever.
Coach Carter (2005)
Based on the true story of Ken Carter, who famously locked out his 1999 Richmond High School team for breaking their academic contract with him until their grades improved, Samuel L. Jackson stars as Coach Carter.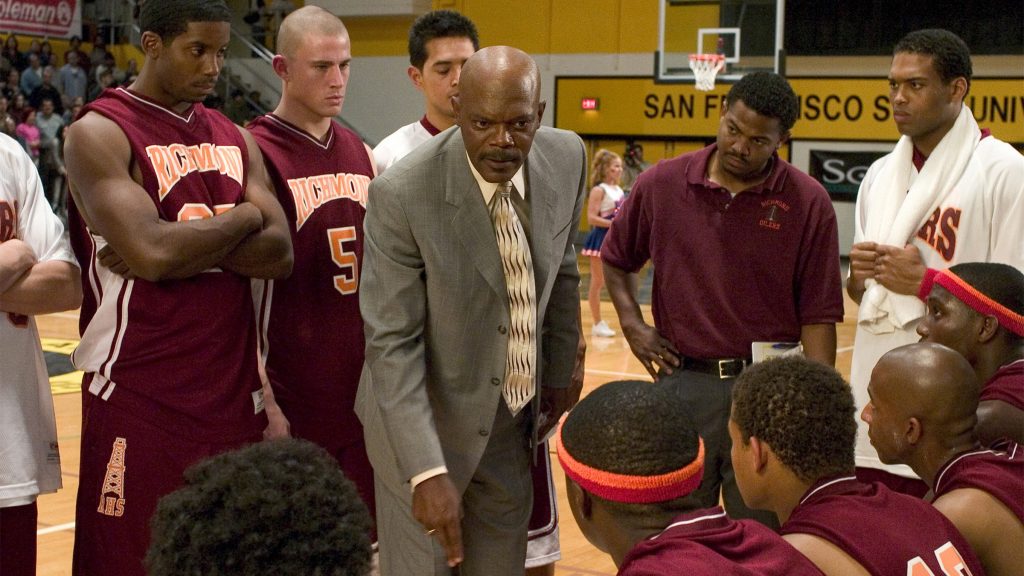 A principled man who takes over an unmotivated team, he brandishes a caustic fervor changing its entire culture with some strict, well-intentioned rules. And despite being criticized by essentially everyone associated with the players and the school's program, coach stays true to his principles and doesn't back down to teach everyone a lesson.
In taking over the head coaching job for the Oilers basketball team at his old high school Richmond, having played on the team himself, earning unbeaten records, he teaches them to play a disciplined brand of basketball that emphasizes fundamentals, execution, defense, and conditioning. However, Carter quickly learns that the athletes are not focused, quite disrespectful, and sorely lacking in discipline.
To that end, while he puts them through rigorous physical penalties for misdeeds on the court, off the court he serves the players individual contracts, instructing them to attend all of their classes, become more respectful in dress and behavior and maintain a minimum (C+) grade point average, among other requirements.
It seems to work initially and a winning streak ensues, however, it doesn't last.
The players soon become overconfident, returning to misbehaving and losing focus in class, and despite the outrage of the team, the school, the parents and the community, Carter cancels all team activities and locks the court until the team shows acceptable academic improvement.
Determined to not back down on his strict, unorthodox methods, feeling that's the only way to convey to his underprivileged players that his rather disciplinary approach is a way to a better life, he eventually succeeds beyond his hopes.
Directed by Thomas Carter (who broke in back in 1979 helming a few episodes of the basketball-themed television series "The White Shadow"), Coach Carter is really a winner largely due to the performance of Samuel L. Jackson.
The versatile actor is quite convincing in his beliefs in his methods, knowing that very few he coaches will ever make a living from it, so he's making men, not providing false hopes of becoming sports stars. It is the game of life that's in play here. It is the soul of Coach Carter's game plan. And with his compelling force that commands attention, Jackson is a natural in the sports' movie staple of a coach offering inspiring locker room speeches and tackling difficult moral decisions.
White Men Can't Jump (1992)
There are no inspiring locker room speeches, but there's plenty of crippling trash talking in the hilarious, playground, pick-up basketball comedy "White Men Can't Jump".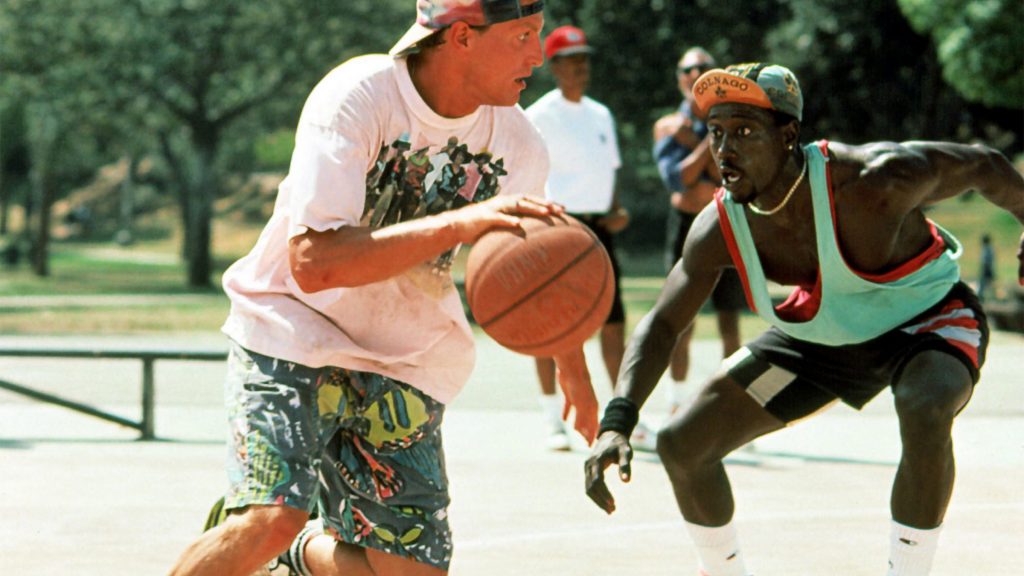 Written and directed by Rob Shelton (who earned an Oscar-nomination for his baseball screenplay, "Bull Durham"), Wesley Snipes and Woody Harrelson star as black and white basketball hustlers who join forces to double their chances of winning money on the street courts, a sort of floating con game on unsuspecting players throughout the playgrounds of Los Angeles. (BTW, Snipes and Harrelson made their film debuts together in the Goldie Hawn football film, "Wildcats" (1986))
Meeting at the Venice Beach public basketball courts Sidney Deane (Snipes) and Billy Hoyle (Harrelson) the partnership, shaky as any pairing of two hustlers would be (an exception being the legendary pairing of the Newman and Redford hustlers in "The Sting"), is paying off. Off the court Sidney is getting pressure from his wife (Tyra Ferrell) to get a better job so they can move with their young child to a better neighborhood. Woody's girlfriend, Gloria Clemente (Rosie Perez) has been saving with Billy and have built up a nest egg for their future together. Gloria is also obsessed with winning on the "Jeopardy" tv show and spends all her time studying.
Like most of his films, sports or not, Shelton presents women characters who are stronger and more intelligent than their male counterparts. That plays out here as well as Ms. Perez delivers one of the better female turns since Shelton's own "Bull Durham" brought us Susan Sarandon as Annie Savoy. Rosie's frenzied yet determined pursuit of a game show appearance on "Jeopardy" is comical and her relationship with Woody has an easy, warm ring of truth to it.
Where "White Men Can't Jump" really scores are with its entertaining inside moves of a pair of ebony and ivory playground hoops hustlers who don't want to grow up despite the pressures to do so by the women who love them.
A smart and humorous look at friendship, loyalty and multiculturalism using the street game subculture as the backdrop, trying to keep up with the trash talk is like trying to keep up with Steph Curry.
There's plenty of all-star lines including -"Oh man shut up you anorexic-malnutrition-tape-worm having-overdose-Dick –Gregory-bahama-diet-drinkin' ass up."
But it wouldn't amount to much if the players couldn't back it up and for actors, while they won't be mistaken for Curly Neal and Pete Maravich, Snipes and Harrelson hold their own as believable street ballers.
The director put a lot of emphasis on making the action believable, including the placing of former professionals in the mix including Marques Johnson and Freeman Williams.
"Basketball required real players, there's no faking it, and so we had open auditions and played pickup games before determining who could audition and read lines from the script," explained Shelton. "Everyone onscreen had played high school, college, or even professional basketball, so our pool of players was at a high level. We ran a basketball camp to keep them in shape and review the fundamental plays they'd be running."
"The games were choreographed, but when I had the scripted stuff on camera, then I'd let them play for real and we'd film that, too," continued the director. "Then we edited together the "real game" footage from the staged game, and it was seamless."
Like another basketball film he wrote, "Blue Chips", Shelton's "White Men Can't Jump" plays well today.
"I think the movie has held up because it's about the democracy of the playground and the guys are decent but flawed," said Shelton. "They each have more attitude than game, and they're survivors–though Wesley Snipes' character is succeeding in his life while Woody's character is a mess and never seems to learn anything. They make a great odd couple."
Hoosiers (1986)
You really can't say that the filmmakers of "Hoosiers" were an odd couple. Classmates at Indiana University, writer Angelo Pizzo and director David Anspaugh shared enough cinematic visions to team up for three sports films "Hoosiers", "Rudy" and "The Game of Their Lives".
Inspired by the real-life 1954 Milan, Indiana championship team, "Hoosiers" features a coach with a checkered past (Gene Hackman as Norman Dale) who gets an assist from a local drunk (Dennis Hopper earning a Best Supporting Actor Oscar nomination as Shooter) in taking a rag-tag, small-town Indiana high school basketball team to become a top contender for the state championship.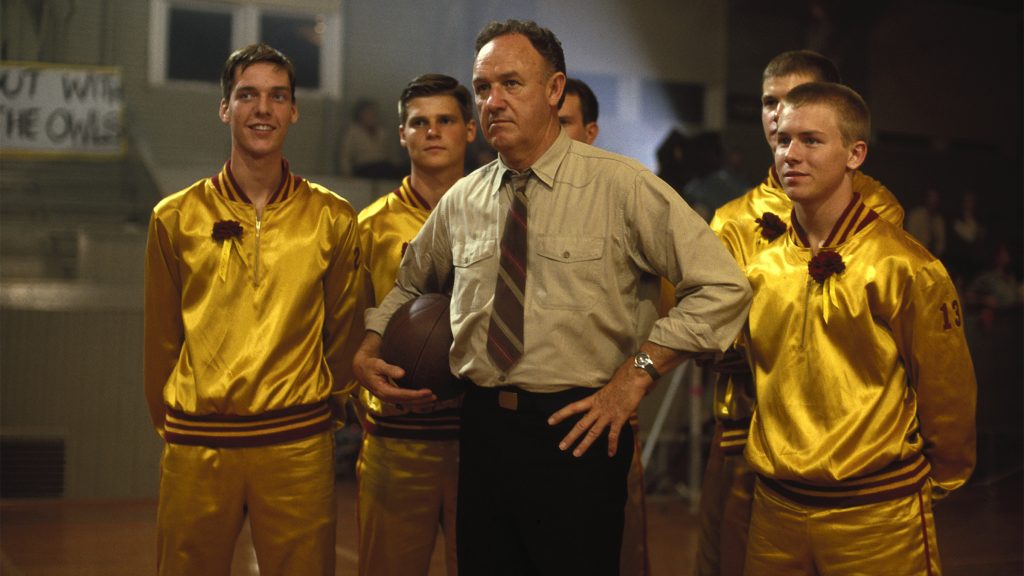 "I love "Hoosiers", said actor Derek Luke ("Glory Road", "Friday Night Lights") emphatically, "The principle and underlying theme is timeless as well. The odds then are the same now, just presented in a different package of current day situations."
Once a formidable college basketball coach, soon after arriving in Hickory to start his new job teaching and coaching the high school basketball team, an opportunity provided by the school's principal, Cletus (Sheb Wooley), an old friend, Dale is surrounded by trouble.
His "My way or the highway" approach offends not only several key returning players, but also the local residents who are used to having input. It also doesn't help when the team's best player, Jimmy Chitwood (Maris Valainis), refuses to play for him because of his devotion to the enduring memory of Norman's predecessor.
On top of that, a teacher, Myra Fleener (Barbara Hershey), who is also acting principal as Cletus becomes quite ill, is very protective of Jimmy. She is therefore wary of Coach Dale. She tells him a man his age comes to a place like this only if he's running from something or has no place to go.
Down another key player (Buddy Walker (Brad Long) gets out of line at the first practice and is told to leave), Dale wonders what he got into after the first few games are embarrassing defeats, but eventually through the ups and downs of a season on their way to an historic year in a true David versus Goliath fashion.
One can rightfully talk about the fine performances of Hackman and Hopper, and how the film launched or furthered many of the sports movie cliches like redemption, misfits, underdog team, second chances and winning the big game that have found success in countless films that followed, but where Hoosiers really excels is the filmmakers' gift for providing the audience with a real sense of a specific time and place.
From the dialogue of the men gathered at the barber shop, to the change of seasons on display, and their living and dying with their high school team's performance from week to week, "Hoosiers" provides an authentic landscape for its characters and simply conveys what the indoor game means to the locals during the isolation of the winter season. Packed crowds even for pep rallies, the town shutting down as they caravan for a road game, and town hall meetings to conduct business about a basketball coach's performance, the picture is rich in detail and texture.
From the location manager, costume designer, art and set decorators, production designer and even the music (Jerry Goldsmith earned an Oscar nomination for his Original Score) this was a real team effort behind the camera that delivers a genuine feel as if the filmmakers went back in time and made a home movie of their roots.
And ironically this was achieved despite some poignant scenes cut by the studio.
"There was a beautiful harvest scene to show what the people in this town did, their livelihood. How they came together harvesting and the celebration that gave it context," said Pizzo.
"It's a classic underdog story. The filmmakers did such a fantastic job of capturing the 1950's nature of the sport along with the culture of basketball in the state of Indiana," said Reel Sports' Rob Miller. "And not only does the movie achieve a high level of authenticity it effectively uses the sports action to advance the story points. Hoosiers actually helped create the formula for many sports movies that followed."
TCM's Charlie Tabesh exemplifies that even though fans know the endings of underdog stories, if they're done right, the movie always seem to find an audience.
"While it's super predictable, many of the characters are two-dimensional, and we've seen similar stories in other sports numerous times, it was still entertaining all the way through," said Tabesh. "I was emotionally invested the entire time as I rooted for the coach and the kids even though I knew what was coming. And Gene Hackman is always great."
And there you have it, The Greats of Basketball Cinema.