On September 17, 2020, Patrick Mahomes II celebrated his 25th birthday holding three remarkable titles as a player – Super Bowl Champion, Super Bowl MVP, and the player with the "richest contract in sports history," worth up to $503 million. While that figure is impressive, the value of the contract is not what is most important. What he did after signing the contract and what he could do with the money is where the best story begins.
Worth up to $503 Million
For those who aren't experts in contracts and perhaps didn't read the fine print when it was announced, Patrick Mahomes is definitely experiencing a surge in income. This is how his contract breaks down:
This season Patrick is still at $2-3 million
Next season he will be in the range of $25-27 million
The following 10 years his extension is $45 million per year (that's $450 million)
Incentive includes $25 million related to Super Bowls and MVP Awards for 10 years straight (this is not even close to reasonable and shame on his agent for not making that $25 million per Super Bowl)
This is a big pro sports contract and no one can debate that. It's $40 million (40%) more than the largest guarantee previously offered in pro sports which was $100 million. But it's not like this is Patrick's only income and only contract that he may play under during his career.
What would you do with $140 million guaranteed cash?
Patrick is the son of Patrick "Pat" Mahomes and Randi Mahomes. In his family, Pat will always be the reference for the retired pitcher who played in Major League Baseball from 1992 to 2003 for the Minnesota Twins, Boston Red Sox, New York Mets, Texas Rangers, Chicago Cubs, and Pittsburgh Pirates. He never played for Kansas City Royals. The cheers for Mahomes reached all new heights when Kansas City locals discovered Patrick leveraged his contact to double-down on the city and professional sports by investing in the KC Royals baseball team.
Let's put this in perspective. The greatest players in professional sports didn't all make annual salary with mega bonuses worth more than major stocks on the NYSE. Some of those players we consider the GOAT for their sport, like Michael Jordan, paved the way for an entire league to have a higher net worth, yet only a small fraction trickled down to players. Michael Jordan didn't invest in another pro sports team while he was a player. Even worse, he unceremoniously didn't get the chance to invest in the Bulls, nor any other Chicago team after retirement and instead invested in Charlotte, North Carolina.
Magic Johnson should be held up as the GOAT of retired players turned businessmen. Even with all of his positions and influence within the Los Angeles Lakers organization, Magic, unlike Jordan held ownership in the Lakers for about 10 years before selling his stake. Ultimately his financial strength was developed in several other industries. In 2012 a group that includes former Los Angeles Lakers star Magic Johnson and longtime baseball executive Stan Kasten agreed to buy the Los Angeles Dodgers from Frank McCourt for a record $2 billion.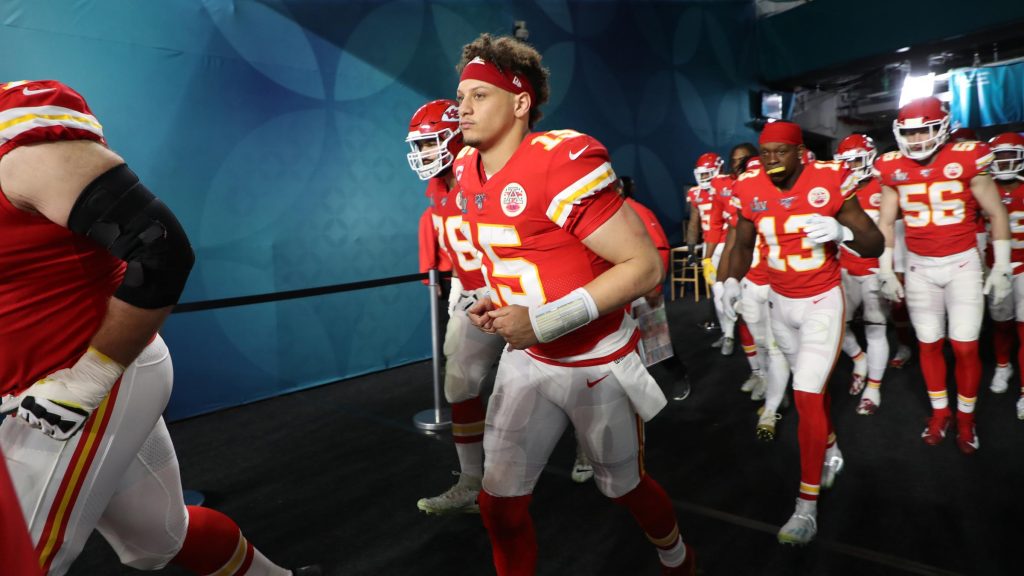 Rising Stocks and Shooting Stars
Mahomes catapulted his elite status in just a couple of years in the NFL before a major contract was even considered. There is a high-risk gamble that many pro athletes participate in. The career "shelf life" of NFL players is declining. The Wall Street Journal reports that NFL players are barely averaging 3-year careers. While there are several exceptions for notables like Tom Brady, Brett Farve, and Doug Flutie to name a few of the oldest quarterbacks to start an NFL game, the health of a quarterback is not guaranteed.
Tom Brady played 20 seasons for the New England Patriots, thanks primarily to the guys in front of him, more protections from the league, and his willingness to tuck or toss to avoid the big boy sandwich. Alternatively, for a mobile quarterback, anything can happen. Just ask first-round draft pick (2012) Robert Griffin III, who missed the Pro Bowl game in 2013 for a knee injury and was replaced in 2015 after concussions for Washington despite his very highly anticipated impact on the league.
The entire NFL was shaken from Dallas to the home office after Dak Prescott horrifically broke his ankle with an open fracture during the Cowboys vs. Giant game on October 11, 2020. Prescott was playing this season under a $31.4 million franchise tag but was unable to secure a long-term contract with Dallas during the off-season. Carted off the field in tears, he's facing six months minimum recovery time and an uncertain physical future. That uncertainty also applies to the "value" that can be drawn to his future contributions to compete for an elusive Super Bowl Championship.
Cynical fans might suggest that these players making investments is not new. That's correct. If you look at two examples of superstar professional athletes who made investments in another professional sports team while still playing, we can use Russell Wilson and James Harden. In 2019, Seattle Seahawks quarterback Russell Wilson and his wife Grammy-Award artist Ciara joined the Seattle Sounders FC as one of 11 new families to add to the ownership group. Forbes magazine named the Seattle Sounders as MLS' fourth-most valuable franchise at $405 million in its annual rankings. Seattle is behind only Atlanta United ($500M), the LA Galaxy ($480M), and LAFC ($475M).
In July 2019, NBA star James Harden invested $15 million for a small stake of the Houston Dynamo, a Major League Soccer team. The Houston team, valued at $280 million, is ranked 15 of 24 teams in total value. The Kansas City Royals are worth more than both the Seattle Sounders FC ($405M) and Houston Dynamo ($280M) combined.
Everyone who focused on Mahomes' contract missed the point. Mahomes is young and has structured the right team to surround him. His father Pat is advising him on the perils of injury and the necessary factors to contemplate so that your career as a professional athlete is no longer a gamble but a viable formula, that can positively impact generations to follow.