July 14, 2021
The NCAA's ruling to let its athletes profit from their names, image, and likeness has already shifted the landscape of amateurism as well as the professional realm. The ability for players to benefit from their likeness muddies the water on the entire ideal of amateurism, however I believe that is was the best conclusion for all parties involved. For decades, schools have struggled to find a way to legally pay players for the millions of dollars they raise each year for their respective university. This ruling still allows for the individual universities to make billions from the players and still not directly pay them, making the athletes go out and find their own endorsements. As an intern for a major sport's marketing firm and a division II football player at Clark Atlanta University, I have a unique perspective on the ruling and the impacts thereof.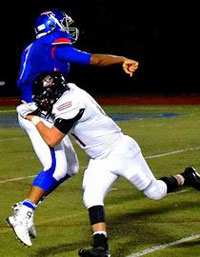 From the perspective of a sports agent intern, the NIL ruling opens a stream of revenue that has never been available before in the business. I believe that this ruling will give agents the creative space to pair corporations with athletes that they may not be able to do with professionals, a collegiate athlete may be interested in a raunchier sponsorship than a professional athlete would because they are hungrier for the finances. This gives the agencies space to create endorsement deals that have not been thought of previously. This ruling also allows for agencies to start a relationship with players that could last from their amateur to professional career, which was frowned upon in the years prior.
This also opens agencies to smaller market schools as well as divisions they may not have paid attention to earlier; typically, if a player were not going to a professional league; a sports agency would not show interest because there would be no revenue associated with that player. Now players from all divisions can profit and will now receive some of the attention and monetary benefits that players on larger scales receive.
As a division II player in the SIAC conference I have never thought of being represented by an agent or receiving an endorsement deal, however this new ruling makes this dream come true for me. As a student athlete, we have always been told that our education was the reward for the blood, sweat, and tears that we labor through, but just to have the opportunity to profit from our likeness and image. We have already started to see players on the larger level of the NCAA gain endorsements and that I believe is widely accepted amongst those who watch the sport. As a lower level athlete, I understand that my potential endorsements will be granted on how I perform throughout the season. To partner, a corporation must feel like there is a potential revenue stream for their interest, and they may not yet see that in Division II SIAC players. While this does not seem fair, I believe this is the greatest benefit of the NIL ruling, it gives players like me and in my shoes an insurmountable hunger to be the best they can be for their own image and for that of the institution.
---

The world of sports and entertainment is full of infinite possibilities and opportunities. But for brands looking to standout, make their mark and stay ahead of the competition, they engage the professional services of Innovative Marketing Group.
Our team of professionals understand how to develop a comprehensive strategic marketing plan that integrates sales management, marketing communications, data analytics, creative design, and digital media services, that will position our client's brand as an industry leader or innovator.
Our strategic consultative services align insights with brand activations, creativity with metrics, complex marketing activities and programs with measurable deliverables.
Our internship program challenges our students (undergraduate and graduate) to come roll up their sleeves, and fully immerse their mind. The sports landscape is vast and can be complex to navigate but our innovation studio allows our interns to become "game-changers / world-changers /paradigm shifters in sports marketing!"
Contact Information:
Innovative Marketing Group, Inc.
404.600.2458 (office)
info@invmarketinggroup.com (email)
www.invmarketinggroup.com (website)