Whispers from around the world quickly became news by the nanosecond.
Coronavirus graduated to COVID-19. From a "flu-like" virus to a disease, a nuisance to a full-blown pandemic. The severity of its disruption was heavily discounted… until it wasn't. Stateside, even as it spread from sea to shining sea, it wasn't real to those who were "far away."
On March 10, 2020, Santa Clara County in California announced a ban on public gatherings over 1,000 people until the end of the month.
COVID-19's droplets began their dissemination across the sports world. Residing in Santa Clara County, the NHL's San Jose Sharks officially announced on March 11 that they would play their three remaining home games of the month in front of a crowd of zero.
Fanless.
Still, for most the Sharks' announcement wasn't alarming. Odd? Inconvenient? Eerie? Sure. Real? Nah. Soon that somewhat sci-fi announcement from the Sharks became a stark reality. Akin to its grips on the global population, COVID-19s impact spread rapidly.
Later that day, when the NCAA announced that it would play tournament games in the same fanless fashion, the surreal nature of COVID-19 finally had everyone's attention.
A few short hours later, right before tipoff of an NBA game between the Utah Jazz and the Oklahoma City Thunder, the sports world changed forever. It would later be announced that Jazz star center Rudy Gobert tested positive for COVID-19. Not only was the disease real, but it was also powerful. If superheroes on the court weren't immune no one else was.
The rest is history. Sports were placed on pause.
"Social Distancing", the act of separating oneself from society, was the prescribed method to constrict the velocity of the virus.
In a matter of two days COVID-19 went from a buzzword to a cacophony of circumspect certainty amongst citizens.
Throughout our modern history, in times of flux, Americans have turned to sports for a reassuring lifeline. If each individual fan was a thread of fabric, together, a common bond was formed thanks to sports.
Now, we can't head to the stadium to "take our mind off things." Tipoff isn't happening — the clock has struck midnight — all we have is a pumpkin. We're left on isolation island, only connected to the world via the umbilical cord that is the internet.
What are fans at large to do?
While COVID-19 is utterly intense, now is the time for the sports world to unite us through education and esports to create the world of tomorrow.
Driven by big money and exquisite technology, the sports business isn't for the faint of heart. It's 24.7.365 at the speed of an F1 machine jetting down the track. Everyone in the business is constantly looking for a competitive advantage. An inch, a lead, a victory at the end. Whatever it takes, right?
Pause. Hard stop.
Like author Simon Sinek says, "Play the Infinite Game."
Looking at recent history, 2008 was a pivotal year for society in its entirety. The Great Recession had an impact that parallels COVID-19. It was also the year that social media was adopted by the masses. A combination of these two things, for better or worse, crafted what sports business is today. Fast forward to 2020, every sports business, organization, and league identifies as something like, "a tech company that happens to produce sports to the delight of fans."
Social media gave way to endless fan experience, streaming, and every athlete becoming their own business. There's nothing wrong with this, but the incremental improvements were not giant leaps, rather baby steps that were often eviscerated by the breakneck pace of new-age evolution.
In all its horror, COVID-19 gives the sports industry time to come up for air.
Suddenly, overnight, we're in a new age of delicate innocence.
It's time to breathe. Time to think. Time to educate. Time to find a creative edge again. By doing this, in an inverted way, people will be unified by sports once again.
Under this mindset truly revolutionary solutions will be born.
A new way game will manifest, a new way of business, a better fan experience.
Take it from Serena Williams, who plans on spending this unfortunate time in "solitude."
Per her Instagram account,
"Spending the next 6 weeks in solitude. Being a wife. Being a mom. Cooking. Cleaning. Spring cleaning. Face mask. Makeup tutorials. I'll let you know how it goes…. stay safe everyone. This is serious."
In other words, she's stepping away for a minute to be human.
Now that the airwaves are void of passionate fans operating under the guise of Madness, how should broadcasting slots be filled?
Education and esports.
Display the stars of yesteryear to show the young fans how the game was shaped. ESPN has done a fine job of pivoting to 30 for 30 and Basketball: A Love Story for fans to soak up.
It's hard to believe that a 25-year-old fan wasn't alive for the Dream Team.
Outside of airing what's happened between the whistles, it's time for the sports industry to educate the fan on the true business of sports.
When did sports and pop culture begin to meld into a uniform being?
Why was the culmination of the Dream Team so monumental? Why was Allen Iverson so important to the league? And why was Sebastian Telfair's appearance on the cover of Sports Illustrated such a big deal at the time?
The answer — the game wouldn't be the same today. Without a blend of the above, we don't have the likes of Overtime.tv today. Without this recipe, we don't have athletes like Andre Iguodala becoming an affluential force in business. Not just sports business — business. BIG BUSINESS.
Fans need to be educated on the ins-and-outs of business terminology, advanced technologies that assist in making better decisions, and what it takes to attract and engage with fans.
STEM is commonly combined with sports in the classroom these days. Broadcasting a financial version now will pay dividends to major sports franchises. There's a future GM that's12 year-old at home just waiting to be inspired. In 20 years, she'll be great in the front office.
Despite the tragedy that COVID-19 is unleashing, now is a better time than ever to reinvent the fan experience wheel within the front office. The teams that adopt new ways to attract fans will win. Look at Greenfield Sports Group. The young company is aiming to transform sporting events from a product to a service. It's CEO, Chris Giles, is the former COO of the Oakland Athletics. He knows the business as well as anyone.
Sports as a Service is needed — sports business is no longer a one-size-fits-all-or-tough-luck product. Fans will soon be able to tailor sports to their individual liking. At home or on the road, fans will be able to create their own formula for memories.
Looking at the San Jose Sharks again, the team is one of the best in the business when it comes to fan experience. From February 20–25 of the 2019–20 season the team hosted a "Digital Road Trip" for fans through its app. This allowed fans to ask Sharks broadcasters direct questions and vote on the content they wanted to consume. That's amazing.
The Sharks also have the 1991 Club, which is described as "a community for those who take vacation days to attend away games, as well as for those who have never once been to a game yet swear loyalty anyways."
This embodies sports as a whole.
Community. Brotherhood. Common Bonds.
With everyone being encouraged to stay at home, esports is another obvious answer for where teams can enhance the fan experience during these troubling times.
Phoenix Suns star Devin Booker found out about the NBA shutdown while live streaming on Twitch. Memphis Grizzlies rookie stud Ja Morant stated the following:

91,800-plus like this within 24 hours. That's nearly five FedExForum sellouts.
On March 13, 126,000 unique viewers peeped the Suns vs. Mavericks in a streamed NBA2K game.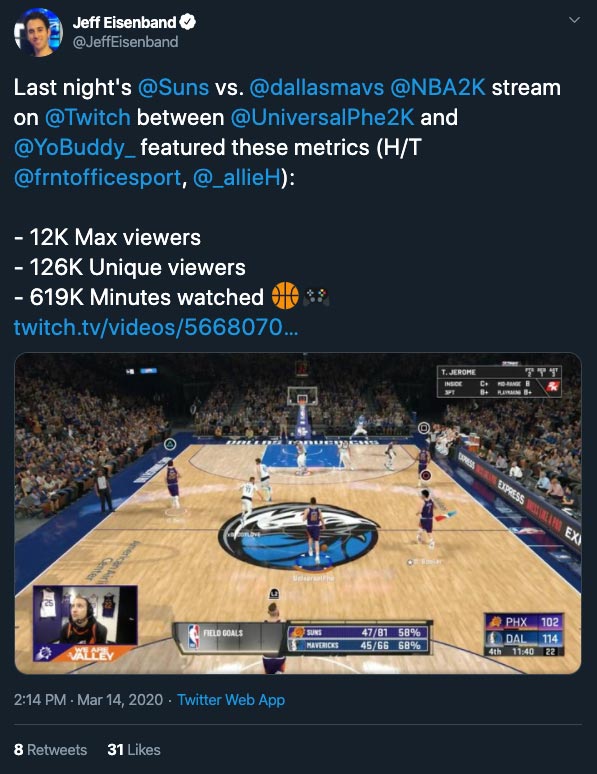 Baseball upstart content company Pitcher List started an MLB The Show league on Discord.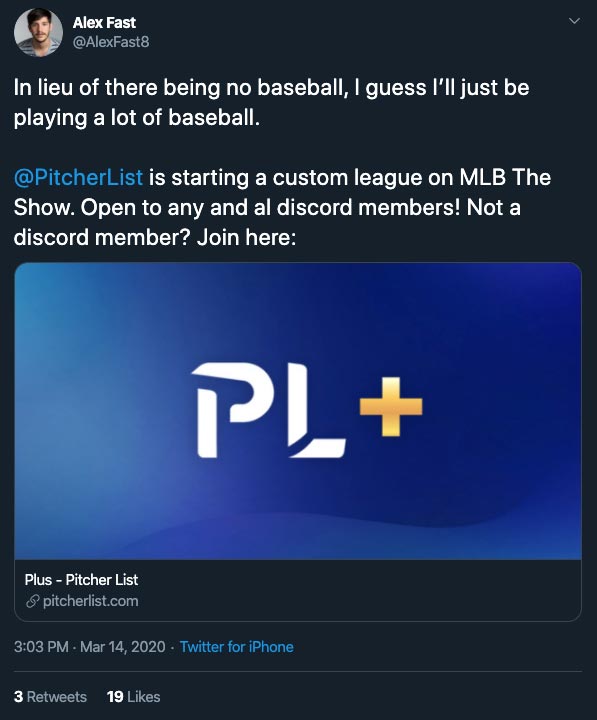 MLB pitcher Trevor Bauer is organizing a sandlot league for charity with proceeds going to those in need due to the crises.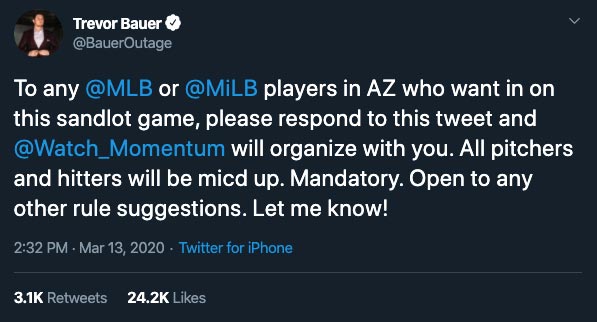 Bauer is enhancing the fan experience himself by making it mandatory that the players are mic'd up.
The digital impact being made is already apparent.
When live sports are on pause esports and athletes will evolve in unimagined ways. This will expand fan engagement exponentially. Creativity will only compound under the unfortunate circumstances COVID-19 dealt the world. Something in the sports world is being dreamt up right now that's beyond fans' wildest fascinations. Alchemy is brewing.
Stay safe. Be kind. Unify.